fire proof paints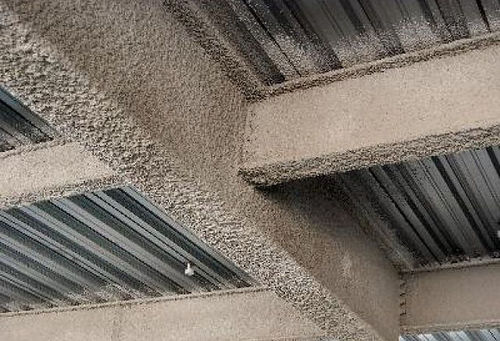 fire proof paints
Product Description
UGAM FIREPROOF VERMICULITE COATING

We are specialized in manufacturing Fire retardant coatings. Product widely being used as fire retardant for buildings, furniture, electrical appliances, electrical lines and near flammable area to avoid fire hazards. We have separate coatings for walls, wood, cable and steel. For steel we have different coatings for interior atmosphere and exterior atmosphere. The fire ratings of the coating depend on the thickness of the coating and are directly proportional to the thickness. Fire rating means the surface will be protected for that much time. These ratings are 30 minutes, 60 minutes, and 120 minutes or half hour, one hour and two hours. The purpose is for getting the time till help arrives to protect property and lives. These coatings require fire rated primer followed by fire retardant intermediate coating and then finally the topcoat on the top. Primer is applied in single coat and is different for different surfaces. Intermediate coating thickness is different for different ratings and different surfaces. The topcoat requires two coats. The topcoat is necessary for protection of intermediate coat and also for providing aesthetic value to the surface. We provide the test certificate for each batch we produce and the tests are done as per ASTM test procedures.
FEATURES:
Vermiculite is a cementious base which has been formulated to provide passive fire protection to interior elements of building construction on a variety of backgrounds, including steel, concrete, polymer-based materials, timber and advanced composite to the cellulosic fire regime.
UGAM VERMICULITE is also suitable for thermal insulation of hot surfaces.
Vermiculite is used in building boards. These boards are often used as a core in fire doors, to build fire barriers, to encase or construct ductwork and to protect steel building elements from the effects of fire.
Vermiculite steel coating by means of vermiculite spray which is a tough, hard and highly stable passive fire protection coating applied to structural steel by spraying and towelling
PROJECTS COMPLETED:
| | |
| --- | --- |
| CLIENT NAME | CLIENT NAME |
| Anandrishiji Hospital & Medical Research Center | O N G C - for offshore and onshore |
| Steel Strips Wheels Ltd. | New P C N D T buildings |
| ITC Hotel Hyderabad | C-Net Solution |
| Bharat Forge Ltd. | Playboy cafe |
| Elpro Estates Ltd. | Kokal Interior Contracts Pvt Ltd |
| Bengal DCL Housing Development Company Ltd. | K P M G Ltd |
| Volkswagen India Ltd. | Tube Products India Ltd |
| Barclays Technology Center | Mahindra and Mahindra Ltd |
| Goel Ganga Developers | Aquapharm Chemicals Pvt. Ltd. |
| B P C L and H P C L for all India depots | ENH Interior Projects Manikchand Icon |
| Defense land systems India | Rank Cranes |
| Gravity Chemicals | VerGo Pharma Research Laboratories Pvt. Ltd. |
| Phoenix Mall | Innvenue Hospitality Management Pvt. Ltd. - Ishanya Mall |
| S R Enterprises | Phadnis Infrastructure Ltd., Pune |
| Rahi Systems | Conserve Consultant & Engineers |
| Madhav Enterprise | M/s Thermal Systems (Hyderabad) Pvt. Ltd. |
| Eclat Engineers | S.S. INSULATION |
| Industrial Electric Services | Varad Enterprises - Kalyani Global |
| Pinks Engineers | ITC Hotel Kolkata |
| York India Ltd, Chakan | Shachi Engineering Pvt. Ltd |
| Pressure Vessels (India), Pune | Chanda Interiors, Bangalore |
| quantum Ltd., Mumbai | Zelos Developers (P) Ltd. |
| Capricorn Plaza Pvt. Ltd., Mumbai | Mathew Associates Hook-Up & Weld Services |
| Shree Sastha Enterprises | Multi Amp Enginners Pvt. Ltd. |
| Windsor Realty Pvt. Ltd., Santacruz | Geographics Interiors Pvt. Ltd. |
| Air Liquide Medical System Pvt. Ltd. | IAV India Pvt. Ltd. |
| PMT Machines Ltd, Pune | Kiyosh Electronics |
| Nand-Neel Engineering Services | Thoughtful Theme Creations Pvt. Ltd. |
| Machino Autocomp Ltd., Pune | Accutech Power Solutions Pvt. Ltd. |
| Thirumalia Chemicals Ltd., Tamil Nadu | Alpha Foan Ltd, Pune |
| Naveen Electricals, Karnataka | Pinnac Housing Pvt. Ltd., Pune |
| Transfix India, Pune | Mittal Developers |
| Rattan Singh Buildtech Pvt. Ltd., New Delhi | Vaibhav Electricals |
| MultiMetals Ltd. | Powerica Ltd. |
| Aim Filtertech Pvt. Ltd. Pune | Natco Products India Pvt. Ltd. |
| Pune Metagraph, Pune | Micron Electricals, Bangalore |
Feel free to get in touch for further queries, if any.

The technical specification is correct to the best of our knowledge and under test conditions and we do not accept any liability towards misuse and contents of it. Product must be tested for specific use prior to use.