Heat Resistant Aluminium Paint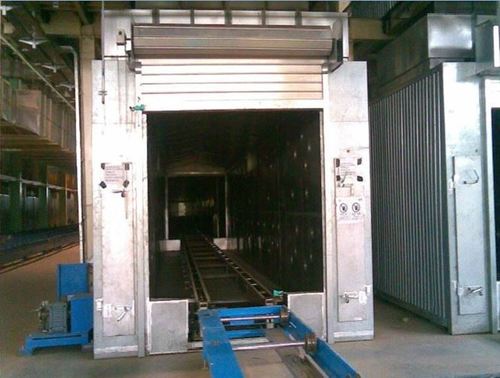 Heat Resistant Aluminium Paint
Product Description
UGAM HEAT RESISTANT ALUMINIUM PAINT
General purpose coatings are not heat resistant. They get damaged, burnt, peeled off due to excessive heat. Hence special heat resistant coatings are used for protection of such surfaces. These coatings should be selected with respect to the maximum surface temperature. UGAM HEAT RESIST 200 is suitable for surface up to 170 degrees Celsius. UGAM HEAT RESIST 400 is suitable for surface from 170 to 350 degrees Celsius. UGAM HEAT RESIST 600 is suitable for temperature from 350 to 550 degrees Celsius. The coatings suitable above 350 degrees Celsius require curing at 250 degrees Celsius for one hour. UGAM HEAT RESIST 1200 is suitable for temperature between 550 and 1100 degrees Celsius and UGAM HEAT RESIST 1800 is suitable for temperatures between 1100 and 1800 degrees Celsius
DESCRIPTION:
A) Highlights
1) The Ugam H. R. Paints are provided by us is capable of withstanding high temperatures.
2) UGAM H. R. PAINTS Products are having wide range of heat resistance ranging from 400, 600, 1200 to 1800 degree Celsius
3) It is mainly used as heat resistant paint up to 200 degrees Celsius.
4) Ordinary paints do not withstand the temperature up to 200 degrees Celsius and hence application of All products are being used by major industries for ovens and furnaces heat resistant paints is required for such hot surfaces.
5) It is mainly applied directly to the surface but in case there is humid or salty weather, it requires special primer for heat resist 200- REDOXIDE.
6) It is Red oxide in color and has special property of preventing corrosion of the surface.
7) Then this coating is applied for protection of primer as well as aesthetic look to the surface.
8) These are unique range of products and are import substitutes saving almost 50 percent cost. UGAM H. R. PAINTS are being used by major companies like Mahindra and Mahindra Ltd., Bharat Forge Ltd. Tata Yazaki, Tata Toyo Radiators Ltd etc. UGAM H. R. PAINTS can be designed to your use and requirement
9) The Heat Resistant Paint is formulated in tune with the laid international quality standards.
10) Our Ugam Heat Resist 200 is accurately prepared in accordance with the laid international standards.
11) We not only say but in literal sense execute timely deliveries without any delays.
12) Our Heat Resistant Paint (UGAM Resist 200) is economically priced!
B) Features:
1) Highly effective
2) Precise pH value
3) Balanced composition
4) Long shelf life
Application Procedure of UGAM HEAT RESISTANT ALUMINIUM PAINT:
1) First clean the surface with dry cloth
2) Proper surface preparation should be done by shot blasting or using UGAM SURFACE CLEANER
3) After 30 mins of application of UGAM SURFACE CLEANER wash the surface with water and then dry cloth
4) Stir properly before application of single coat of UGAM HR PAINT
5) Let the surface dry for 24 hours and it will be ready to use.
6) The thickness of UGAM HR PAINT will be 80 microns
You can Email us on sales.ugamchem@gmail.com or contact us on +91-7219872619.
Feel free to get in touch for further queries, if any.
The technical specification is correct to the best of our knowledge and under test conditions and we do not accept any liability towards misuse and contents of it. Product must be tested for specific use prior to use