Heat Resistant & Thermal Insulation Paint For 160 Deg C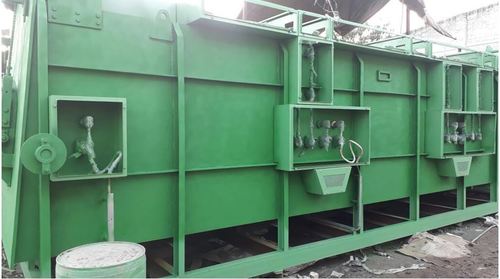 Heat Resistant & Thermal Insulation Paint For 160 Deg C
Product Description
UGAM INSULMIX EP
Excellent Product for Energy Saving Upto 160 Deg C



Based on the heat resistant medium and after adding special additives and ceramic microspheres, UGAM thermal insulation coatings are manufactured for energy saving due to reducing heat losses from ovens, furnaces or refrigerators. These microspheres are used in manufacturing tiles used for exterior cladding of space shuttle. These coatings reduce energy from 10 to 20 percent in practical. The selection of coating is same as heat resistant coating selection. These coatings are named as UGAM INSULMIX, UGAM H R T I 200, UGAM H R T I 400, UGAM H R T I 600, UGAM H R T I 1200and UGAM H R T I 1800.
DESCRIPTION:
We are pleased to introduce ourselves as THE SOLE DISTRIBUTOR of new ELASTOMERIC THERMAL INSULATING AND WATERPROOFING PAINT introduced in the market as UGAM INSULMIX EP. It has many unique features, listed in short as follows.
1) The heating in sunlight is mainly due to radiation. Conduction and convection are secondary which transfer such generated heat.
2) Conventional insulating products are designed to prevent conduction and convection.
3) Ugam Insulmix EP is the only product which takes the care of radiation.
4) The paint contains Imported Ceramic Microspheres which are used by N A S A for making tiles to cover space shuttles for thermal insulation and which are hollow and having vacuum inside.
5) These microspheres reduce the heat generation due to radiation considerably and also help reducing conduction and convection.
6) Being ceramic, they are inert and do not take part in any reaction with paint.
7) These microspheres are dispersed in Epoxy latex paint to achieve the weather resistance, total waterproofing effect and getting the elastomeric effect.
8) Being elastomeric it takes the care of expansion and contraction of the surface on which it is applied. Also after application of this, any conventional waterproofing is not required to the building.
9) Since it is always visible on the top, any damage to it due to drilling, hammering, or chipping can be repaired there only.
10) Epoxy latex and special type of additives makes the coating very hard to take the wear and tear of the terraces easily.It can be applied on Concrete, G. I. Sheets, as well as Asbestos sheets and to the exterior of the building.
11) It is mainly suggested for ROOFS, WALLS, CEILINGS, A/C DUCTS, INDUSTRIAL AND COMMERCIAL SHEDS, SPECIAL APPLICATION IN DEFENSE, COLD STORAGE, AUTOMOBILES, HOMES, BOILERS,FURNACE, FREEZER VANS, OVENS, INSTRUMENTS, STEAM PIPING, PUMPS, TURBINES, VALVES, EXCHANGERS, EXHAUST MANIFOLDS, FLANGES, FILTERS, PLATEN, KILN, RUBBER MOULDS, PRESSES, PLASTIC MOULD and PRESSES to achieve energy saving through blocking heat losses from moulds up to 160 degrees C or any surface needing heat insulation.
12) On a bare concrete terrace, it's application has shown the difference of 20 deg. Celsius checked with infrared thermometer at 2.30pm.
13) It is tested by I. I. T. Mumbai. And National Coatings Corporation California, U. S. A.
14) If undisturbed it does not need reapplication for about ten years.
15) If applied externally to the buildings having central air conditioning the energy costs are reduced by minimum of 15% per month.
16) In some cases where the application is done both interior and exterior, 40% saving is achieved. Hence ideal saving can be achieved just by applying Ugam Insulmix EP paint.
17) In cases where heavily leaking roofs were coated with UGAM INSULMIX EP and the roofs now show no sign of any leaks.
18) Also since it can be manufactured in any shade, it is ideal for exterior surfaces as well as smoother version is available for interior use as finish coat.
19) Hence UGAM INSULMIX EP is one coating, which works as exterior/interior paint, waterproofing, and most importantly thermal insulation coating and eliminates conventional waterproofing, and thermal insulation of the building.
20) In industries where heat is used for process, UGAM INSUMIX EP is used for energy saving purpose up to 160 degrees C. It reduces heat transfer from inner shell to exterior and hence reduces fuel consumption thereby increasing energy saving.
APPLICATIONS:
Ugam Insulmix is designed for use on almost all surfaces. Exterior R.C.C. surface, Terraces, Cement surfaces, Asbestos sheets, G.I. sheets, Galvalum sheets, Stone walls, Sloping roofs, wood, plastic, etc.
HERE ARE SOME OF THE KEY BENEFITS OF OUR SPECIALIZED INSULATING COATINGS:
1) Unaffected by UV rays (has passed 1300 hours of accelerated aging by exposure to salt fog and UV).
2) Non-combustible during application and after installation and cure, extremely low flame spread and smoke contribution ratings.
3) Due to the low thermal conduction and other insulating properties, the coating will reduce surface temperatures low enough to allow the application of color top coats while providing safety from burns by incidental contact.
4) With the exception of cold wet applications the coating can be applied without operation shut down.
5) Superior radiant heat barrier averaging 0.063 W/mK Thermal Conductivity, thus eliminating the majority of heat penetration.
6) Low chloride content, i.e., less than 23 ppm and less than 19 ppm halogen.
7) This allows the coating to be used over stainless steel and casting steel too
8) Dry fall during application is 5' to 7'
9) Cleans up with soap and water
10) Remains flexible to -30 Deg F (-35 Deg C)
11) Contains no solvents
12) Contains no hazardous fiber
13) Removal is not a hazardous waste (it does not absorb chemicals)
14) Does not require special equipment and handling
THREE VARIANTS OF HEAT LOSS

CONDUCTION: Condensate is the liquid formed when steam passes from the vapor to the liquid state. In a heating process, condensate is the result of steam transferring a portion of its heat energy, known as latent heat, to the product, line, or equipment being heated.

CONVECTION: Convection is the transfer of internal energy into or out of an object by the physical movement of a surrounding fluid that transfers the internal energy along with its mass. Although the heat is initially transferred between the object and the fluid by conduction, the bulk transfer of energy comes from the motion of the fluid. Convection can arise spontaneously (or naturally or freely) through the creation of convection cells or can be forced by propelling the fluid across the object or by the object through the fluid.

RADIATION: As we all are aware, Heat losses from hot surface to atmosphere are due to Radiation, Conduction and Convection. From this 70% losses are due to Radiation and balance only 30% are due to conduction and convection. But general concept is that if we put conduction resistant insulation to hot surface and bring the surface temperature to near ambient, we feel that we have achieved energy saving. Yes indeed!. We have achieved energy saving but were able to block heat losses of 30% only which are due to conduction and convection. What about Radiation? Have we ever thought about it?

EXAMPLES: To explain our point in detail, we will take the example of microwave oven. In microwave oven the heating is done with the help of Radiations. If we place any food material in microwave oven in closed container of very thick glass or any conduction control insulation material suitable for microwave, we will find that the food inside is getting hot without changing the temperature of the container. If we are using conventional insulation material which we are using for hot surfaces for energy saving, then it should not allow the radiations to transfer inside the container and should not allow the food to be heated. But still it happens. This clearly means that conventional insulation material with high K value is suitable for only conduction control and not for radiation control. Hence the necessity of Radiation Control Coatings arises to take care of this heat loss. Considering this NASA developed material for radiation control and the tiles made of these materials (Ceramic Microspheres) are used worldwide for space shuttles exterior cladding. These products were released by NASA for general public use for energy saving in 1996. Started importing these spheres and manufacturing coatings of this material to control radiation losses from hot surface. These coating does not allow the radiations to enter in atmosphere and block to the hot surface only. Since there is no equipment available to check the radiation entering in atmosphere from hot surface, we can very well judge the performance of the coating with help of energy meter by comparing energy before and after application of the coating UGAM H R T I and UGAM INSULMIX are all radiation control coatings. Since these coatings are not conduction control coatings, they will reduce surface temperature to some extent but will not reduce considerably or will not bring the surface temperature to ambient

INDUSTRY WHERE WE SAVE ENERGY

PLACES WHERE WE LOSE ENERGY

TEXTILE, PAPER,RUBBER, AUTOMOBILE, GLASS INDUSTRY, TYRE, CEMENT, PHARMA, SUGAR,FERTILIZERS, REFINERIES, PETROCHEMICALS, CHEMICALS,FOOD, SYNTHETIC FIBRE, ALLOY, OTHER INDUSTRY WHERE RADIATION LOSS IS THERE

INSTRUMENTS, STEAM PIPING, PUMPS, TURBINES, VALVES, EXCHANGERS, EXHAUST MANIFOLDS, FLANGES, FILTERS, BOILERS, FURNACE, OVENS, KILN, COLD STORAGE, PLATEN, INDUSTRIAL AND COMMERCIAL SHEDS, LAMINATION PRESS MACHINE, DIES, FREEZER, OTHER HEATING EQUIPMENTS / MACHINES WHERE RADIATION LOSS IS THERE
PROJECT COMPLETED:
| | |
| --- | --- |
| CLIENT NAME | CLIENT NAME |
| M/s Tata Yazaki Autocomp Ltd | Venus Wire India Pvt. Ltd. |
| M/S Bharat Forge Ltd | Alicon Castalloy Ltd. |
| Godrej & Boyce Mfg. Co. Ltd. | Sagar Drugs & Pharmaceuticals Ltd |
| M/s Mahindra & Mahindra Ltd | Shri Damodar Yarn Mfg. Pvt. Ltd. |
| GE Power India Ltd. | Super Delux Paper Mills Ltd. |
| Shachi Engineering Pvt.Ltd | Hindustan Zinc Ltd. |
| Tata Motor ltd | Long Life Refractories |
| L&T | R. Kumar Spun Tex Pvt. Ltd. |
| Invotech Solution & Systems | Nirvikara Paper Mills Ltd. |
| M/s. Vertex Industries | Gayatrishakti Paper & Boards Ltd. |
| Quad Sun Solar Pvt Ltd | Cadila Healthcare Ltd. |
| ASAHI India Glass Ltd. | Lupin Ltd. |
| GSC Glass Ltd. | Kherani Paper Mills Ltd. |
| Pankaj Fashions | Craft Corner Paper Mills Ltd. |
| Rockwool India Pvt. Ltd. | Vinayal Oil & Fats Pvt. LTd. |
| STI Sanoh India Ltd. | Gloster Ltd. |
| N. R. Agarwal Industries Ltd. | Rockman Industries Ltd. |
| Sona BLW Precision Forgings Ltd. | Bikano Foods Pvt. Ltd. |
| Shree Ajit Pulp & Paper Ltd. | Havells India Ltd |
| YASH Papers | Contour Automotives Pvt. Ltd. |
| Shree Gajanan Paper & Board Ltd. | Shree Cement Ltd. |
| Gargi Cristal Steel Chem. Pvt. Ltd | Kwality Pulp & Paper Mills Ltd. |
| Bala krishan Paper Mills Ltd. | Hemlines Textile Export House |
| IPCA Laboratories Ltd. | Panoli Intermediates (I) Pvt. Ltd. |
| Banswara Syntax Ltd. | Mafatlal Industries Ltd. |
| Polytech Ruber Industeries Ltd. | Garden Silk Mills Pvt. Ltd. |
| Mccain Foods India Pvt. Ltd. | Vaibhav Paper Boards Pvt. Ltd. |
| Adtya Birla Nuvo Ltd. | Molytech Lubes Pvt. Ltd. |
| Shri Sai Processess | Lotus Knits |
| Warsaw International | Meru Engineers |
| Sharp Chucks & Machines Pvt. Ltd. | Genus Papers & Boards Pvt. Ltd. |
| Ambuja Intermediates Ltd. | Industech Industries Ltd. |
| Apollo Tyres Ltd. | Shriram Pistons & Rings Ltd |
| Maheshwari Vidya Pracharak Mandal | Tega Industries (SEZ) Limited |
| Department of Mechanical Engineering - Indian Institute of Technology Bombay | Maheshwari Logistics Pvt. Ltd. |
| Department of Mechanical Engineering - Indian Institute of Science | Baldota Control & Equipment Private Limited |
| V Guard Industries Ltd, Coimbatore | India Nets, MP |
| Crescent Metal Coats, Mumbai | Tata Johnson Controls Auto Ltd., Hinjewadi |
| Keva Industries, Ludhiana | Vacuum Components & ProjectS Pvt. Ltd. |
| Dia Aluminium India Pvt. Ltd. | SriDevi Tool Engineers Pvt. Ltd., Mumbai |
| Govind Milk & Milk Products Pvt. Ltd, Phaltan | Harita Fehrer Ltd. Kancheepuram |
| Ashok Leyland Ltd. | GVG Paper Mills Ltd. |
| Vishal Paper ltd | Dev Industries ltd. |
| Toyota Kirloskar Motors Ltd. | Eisenmann Ltd |
| Emcure Pharma | ENKEY WHEELS LTD |
| Siemence India Ltd. | Aventis Pharma |
| Unichem | Kasat Kothidiya associates |
| Eternit Everest | Mahati Electrics Pvt. |
| Johnson & Johnson | Tata Toyo radiators ltd |
| S K Cold Storage | Novaritis |
| Pashupati Cold Storage | Gomti Cold Storage |
| Om Heat Treaters | Bajaj Auto Ltd |
| Cipla | Reliance |
| Glaxo | IPCL |
| Surya Roshini Ltd | Global Telecom |
| Vibha Power Solutions Pvt Ltd | Sundaram Fasteners |
| Tata Advanced Systems Ltd. | PRS Permacel Private Limited |
| Transtech Magnetics Pvt. Ltd | J K Tyres |
| KSP Engineering Co. | Syrma Technology Pvt. Ltd |
| Enkie Wheels (India) Ltd., Pune | Tillu Thermosys |
| Hindustan Everest Tools Ltd. | Sourabh Heat Treatment |
You can Email us on sales.ugamchem@gmail.com or contact us on +91-7219872619.
The technical specification is correct to the best of our knowledge and under test conditions and we do not accept any liability towards misuse and contents of it. Product must be tested for specific use prior to use.
LEADER PAINTS MARKETING

SR. NO.

HSN CODE

COATINGS

PRODUCT NAME

DFT Reqd.

No. of Coats

Coverage / Ltr

1

32089029

PRIMER

UGAM EP PRIMER OR

UGAM ETCH PRIMER

250 Microns

Single Coat

75 Sq. Ft.

2

32089029

INSULATION PAINT

UGAM INSULMIX EP

3 Coats

20 Sq. Ft.

3

32089029

THINNER

UGAM THINNER EP

15% OF TOTAL MATERIAL